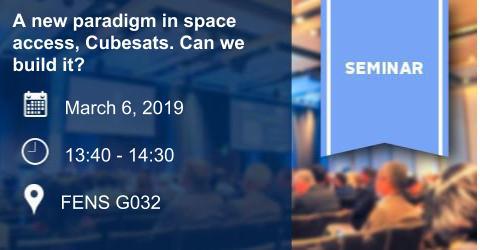 Speaker: Emrah Kalemci
Title: A new paradigm in space access, Cubesats. Can we build it?
Date/Time: March 6, 2019 / 13:40 - 14:30
Place: FENS G032
Abstract: There has been a paradigm shift in how we access to space since the early 2000s. Historically, satellites are designed from scratch with the mission idea at hand and produced with costly space-qualified components because the launch is extremely expensive, and there is no way to fix the system if anything goes wrong. The tendency to reduce risk also make it necessary to have highly qualified engineers at hand, and overall the price tag of a satellite literally sky-rockets! Instead of this high-risk/low-cost approach, the new paradigm is using high-risk/low-cost approach of cubesats with standard deployers, commercial off the shelf (COTS) components, and students designing and realizing satellites in university laboratories. In this presentation, I will introduce the cubesat concept, especially concentrating on what they CAN and CANNOT do. I will discuss the current environment in Turkey and the world regarding the future of cubesats, and finally propose a cubesat that we can build in our own backyard. Can we build it? Yes we can!
Dr. Kalemci has been supported by Sabanci University Internal Research Grant to develop an X-ray detector as a cubesat payload. This system is currently in space on board the BeEagleSAT at low Earth orbit.
Contact: Öznur Taştan & Semih Onur Sezer& Erdinç Öztürk& Emre Özlü & Emre Erdem& Selim Balcısoy